Katja trok met luxehaas Jonathan naar Porto. Ondans wat blessureperikelen de laatste maand stopte de klok na 3h16'11". Proficiat!!!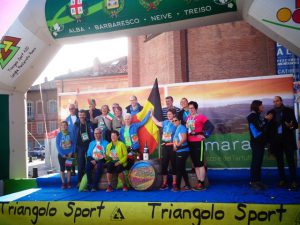 De Eco marathon en HM in Alba staat volledig in het teken van de befaamde lokale wijnen en de truffel.  De 24-koppige HRC delegatie koos ofwel voor de HM of de "walking taste" waarbij nog meer tijd kan besteed worden aan het fijnproeven onderweg.
De start is om 9h en de eerste 2 uur blijft het ietwat nevelig maar vanaf Tre Stelle steekt de zon zijn kop op en doemen de besneeuwde bergtoppen ook op.
Vanaf km 3 is het behoorlijk pittig en het gaat het gestaag bergop en  bergaf tot in Barbaresco waar de lokale wijn kan geproefd worden. Nadien volgen enkele kilometers op de weg alvorens er zowel een steile afdaling en een laatste zware klim volgt. Vanaf km 18 is het weer op de weg te doen en gaat het in dalende lijn tot in het centrum van Alba. Al onze HRC'erkes die in de buurt zijn komen op het podium samen met Massimo – de organisator – en trekken dan naar het eet- en drankfestijn.
Het is een schitterende loop in een prachtige streek. Gewoon een aanrader!
For our Italian friends:
– Thanks Massimo for the race and all your help when we were looking for lodging, had questions etc..
– Thanks Andrea and Alessandro for our stay in Villa Meridiana  and Casa Ressia
– Thanks for all the different wine flavours and bottles during the after-race meal.(www.adrianovini.it)
– It was un unforgettable race or walk in very beautiful scenery!!!