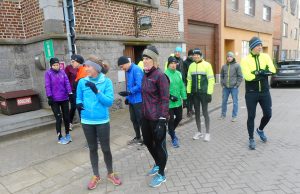 In 2018 worden de oude en vertrouwde "Ken je Streek" Loopjes terug van onder het stof gehaald. Met 110 leden valt er hier en daar wel een stukje bos, heuvel of veldwegje te ontdekken. Wezemaal opende op zondag 18 Maart de rij en het bezoekercentrum van de Hagelandse wijn was "the place to be". Gastheer Davy wilde zijn trainingsgebied en "vals plat" laten zien.
Gezien het onmiddelllijk naar omhoog ging, vergat iedereen snel de kou.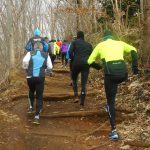 Het concept bestond er dit maal in om de wandelknoopunten te gebruiken voor zowat 7.5 km of een goeie 10 à 11km (voor wie al dan niet op het rechte pad bleef).
Soep, broodjes en Hagelandse wijn zorgden nadien voor het toetje, maar eerst was er nog een "opletmoment". Twee Waalse studentes hadden HRC gevraagd om een korte presentatie over een Waalse stad te mogen doen ( promo-filmke in het Nederlands). Dus Nijvel staat nu bij éénieder aangekruist als een sportieve stad!
EN NOTEER: Op vrijdagavond 6 April kan je tijdens de Appelboesemjogging terug genieten van de leuke heuveltjes tussen Gelrode en Wezemaal.