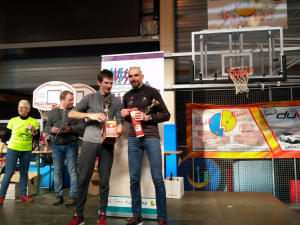 Na een weekje overuren kloppen in Birmingham, stond ik samen met enkele kameraden op zaterdag 10 februari aan de start van de Trail des 3 vallées in Couvin.
We waren in onze nopjes, niet onmiddellijk omdat ik persoonlijk zo fris en monter aan de start verscheen, wel omdat het gesneeuwd had. Hoe dichter we Couvin naderden, hoe witter het landschap werd.
Geen ervaring hebbend met gedraaf in de sneeuw, was het voor de start toch wat rondneuzen om te zien wat voor schoeisel de andere deelnemers hadden aangebonden. Meer profiel dan op andere trails of … of … ? Nu ja, 't is niet dat we de wagen hadden volgeladen met een uitgebreid gamma aan schoenen: 't was te doen met hetgeen we mee hadden en dat wou zeggen in mijn geval: duidelijk minder profiel dan de rest van het pak en dat zorgde toch voor een licht verhoogde hartslag. Er waren 3 afstanden voorzien: een 31km met 850hm, een 21km met een dikke 500hm en een trail découverte van 11km.
Zoals een ongeschreven wet in het trailgebeuren vereist, werd de start een beetje uitgesteld en met een kwartiertje vertraging werd de meute van toch dik 750 lopers in gang gezet door de "3…2…1 – Amusez-vous" van madame la presidente, een bijzonder sympathieke dame zo bleek na een babbeltje achteraf.
Trail lopen is tegenwoordig een hype maar er is toch duidelijk een verschil tussen een trailtje in Vlaanderen en een trailtje meer richting de Franse grens. Alles is er een beetje met de natte vinger georganiseerd en je kan maar best zelfvoorzienend te werk gaan. Ookal zijn het lange inspanningen, bevoorradingsposten zoals op een marathon zal je er niet vinden. Halverwege staat er meestal wel een tentje waar ze je een bekertje water of grenadine van de hand kunnen doen en met wat geluk kan je nog vlug een handvol rozijnen meegraaien of wat zoute bretzels indien je dat zou verwerkt krijgen. Me laten vangen doe ik niet meer en loop tegenwoordig alles met een rugzakje met een halve liter water (die ik dan kan bijvullen) en een verzameling aan gellekes dat ik naar eigen believen kan verwerken. De man met de hamer met nog één of meerdere steile beklimmingen te gaan is écht geen graaggeziene gast. Einde intermezzo, terug naar het witte landschap in Couvin.

Ik ben het blijkbaar aan mezelf verplicht om me vooral niet in te tomen in het begin van een wedstrijd, ongeacht de afstand. De eerste kilometers gingen dus gezwind en samen met de koplopers van de 21km baande ik me een weg door het witte bos. Er was door wandelaars wel al een zichtbaar pad gemaakt en dat maakte het volgen van het parcours wel wat makkelijker. Rond km 15 begonnen de benen toch al wat tegen te werken. Op ongeveer elke afdaling werd ik op achterstand gezet en probeerde ik dit in het vlakkere stuk erna of de volgende helling terug toe te lopen. ideaal recept om binnen een niet afzienbare tijd een "dipje" te genereren. Soit, het waren dan ook de mannen van de "korte" afstand, dacht ik bij mezelf en draafde op een iets gematigder tempo door. De extra lus van de 31 km had wel iets speciaals: doordat de organisatie de lintjes enkele dagen op voorhand hadden gehangen en het daarna nog gesneeuwd had, was de sneeuw nog onaangeroerd. In de verte moesten we lintjes zien te spotten om ons zo te oriënteren, het pad was volledig onzichtbaar geworden. Rond km 20km kreeg ik gezelschap van Florian, die na zijn rustige start onder stoom was gekomen. toffe kadee, een kleine 5km legden we samen af al babbelend (tussen het geheig weliswaar) tot ik plots volledig geparkeerd stond op een steile helling: benen verzuurd. M'n compaan kreeg zo een dikke 20 seconden bonus en met nog 2 afdalingen en een helling te gaan, liep hij nog wat verder van me weg. Uiteindelijk bolde ik over de streep op een 2e plaats na 2u23. een leuke surplus en motiverend voor de Aymon trail 2 weken later !
Kameraad Rik werd op de kortere afstand eveneens 2e en zo werd onze terugreis naar Leuven nog wat uitgesteld tot na de podiumceremonie.