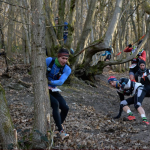 Begin Januari raadde iemand me de Aymon trail aan. Start en aankomst in Bogny-sur-Meuse, vlakbij Monthermé op zondag 25 februari. "Een speeltuin van singletracks in de bossen op de flanken van de Semois- en Maasvallei". Het klonk enorm verleidelijk en zonder al te veel na te denken, schreef ik me in (de laatste beschikbare plaats, zo bleek).
Een week voor de feiten, begon ik het internet wat af te schuimen naar meer info omtrent die Aymon trail. Hetgeen ik te lezen kreeg was allerminst geruststellend: 32km ("oké") met 1750 hm ("Oei", de vorige in Couvin had er net 850 en dat was al niet van de poes) met vele steile hellingen ("zal voor iedereen wel zwaar zijn") en steile technische afdalingen ('Houston, we have a problem !").
Zondagochtend, wekker om 5u15, vertrek om 6u richting Bogny: dik 2u bollen voor een start die gepland stond om 9u. Genietend van de zonsopgang in de voiture, kwamen we (ik had nog een compaan gevonden) mooi op tijd aan en om 8u55 stonden alle deelnemers opgelijnd aan de start. Het zonnetje deed z'n best maar de temperatuur was nog steeds -6°C en iets om mee rekening te houden. Een extra laagje thermisch ondergoed, handschoenen, muts, …
Er werden 3 wedstrijden gehouden: een trail van 15km en 700hm, de lange van 32km met 1750hm en dan ook nog een aflossingstrail op hetzelfde parcours van de 32km maar dan onder de vorm van 16+16.
De 32k en relais startten samen en waren goed voor 700 deelnemers. Op de 15k kwamen er een dikke 300 gegadigden in actie.
Start!
Onder veel gejuich en aanmoedigen van ondermeer een filmende drone kwam de meute op gang. Als je dan denkt dat iedereen de eerste vlakke km zou gebruiken om te gewennen aan de vrieskou of zich wat zou inhouden uit schrik voor wat komen zou, heb je het mis. De eerste km legde ik volgens mijn garmin af 3'26″/km en voor een keer liep ik niet op kop.

Het volledige parcours speelt zich af rond "les 4 fils Aymon" Een rots met daarop een standbeeld dat je doet terug brengt naar de Middeleeuwen en de tijd van de Tempeliers. Wikipedia kan de geïntresseerden waarschijnlijk verder op weg helpen. Met behulp van de zon werden de deelnemers getracteerd op enkele fantastische vergezichten maar om op die uitzichtpunten te geraken moest er eerst stevig geklommen worden. Lopen was heel vaak niet aan de orde en op bepaalde punten kwamen ook de handen serieus van pas. Kruipen, zowel in de letterlijke als de figuurlijke zin van het woord. Allerminst van de poes en het was bij momenten heel demotiverend om de garmin gade te slaan: 10 minuten afzien en nog steeds aan dezelfde kilometer bezig … tja, ze moeten die hoogtemeters toch ergens vandaan toveren.
De organisatie had zelfs een fantasietje in petto: een gecronometreerde beklimming iets over halfweg. Ik denk niet dat daar één enkel deelnemer een extra efforke voor heeft gedaan 😉
Wie steile beklimmingen zegt, heeft het in 1 adem vaak ook over steile afdalingen en ja hoor … geen gebrek hieraan! Zoals reeds in vorige verslag aangehaald, ben ik echt een kluns in het afdalen. Het gaat te traag (in vergelijking met al de rest), ik ben niet op m'n gemak, het doet zeer en ik krijg er verzuurde benen van. Op dit parcours kan je dat mindere punt niet wegsteken en de ene deelnemer na de andere stoof me in de afdalingen voorbij en verdwenen uit het zicht. Ik heb m'n portie boomknuffelen wel gehad ! 32 km blijkt ook lang genoeg om verschillende technieken uit te proberen: ongecontroleerd naar beneden in de hoop recht te blijven, rustig gecontroleerd naar beneden in de hoop genoeg te kunnen remmen, Aap-gewijs van boom naar boom slingeren, de kinderlijke op-de-poep-methode of al snowboardend … diversiteit troef en het levert ook heel leuke plaatjes op
Tot km 20 speelde ik haasje over met steeds dezelfde 8 deelnemers: ik sneller bergop, zij betere acrobaten tijdens de afdalingen. Eénmaal de 20km gepasseerd, kwamen er steeds minder mensen voorbij in de afdalingen en tijdens de laatste beklimming had ik ze allemaal definitief achtergelaten. Onderweg stonden er, in tegenstelling tot vele andere trails, heel wat "seingevers" die je met de nodige aanmoedigingen de juiste richting wezen. Chapeau, want warm zullen ze het niet gehad hebben. Ook aan de aankomst stond er een heel ontvangstcommité.
Voilà, 't zat er op. Na 3u15 kwam ik tot m'n grote verbasing als 8e over de streep. Dit was een trailtje om in te kaderen: Loodzwaar, technisch, sterk deelnemersveld en een enorm goede organisatie. een aanrader voor iedereen die weleens een gokje wil wagen 😉 (met dank aan top-trailer Jonathan en schrijver van dienst)