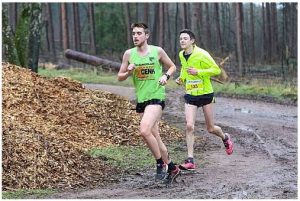 Zoals wel vaker gebeurt ben ik gezellig bezig met mijn 100+ km week wanneer een aankondiging van de LPM marathon verschijnt. Waarom ook niet, ik heb zondag toch niets te doen. Tapering? Nooit van gehoord.
De LPM marathon valt midden in de winter, en vindt plaats in het mooie natuurdomein 'Kattevennen'. In het bos dus. Vorige edities volgden een smal asfaltpad door het bos, maar men wou eens experimenteren met lange stukken offroad in het parcours. In een winterseizoen is dat dus modder en plassen. En takken in je gezicht en boomstammen in de weg. Daarbij is er geen meter vlak in dat bos. Het is omhoog of omlaag. Niet echt steil, maar toch in totaal een 350 hoogtemeters.
Ik vertrek heel rustig, het is vooral genieten van de mooie zondag en van het bos. De eerste halve verloopt vlekkeloos. Ik heb een oogje op het podium 50+ (de leeftijdscategorie, niet de gewichtsklasse ) en weet ongeveer wie er voor mij zit. Na 8 km zit ik netjes in de voeten van de eerste M50 te lopen. Perfecter kan het niet, gewoon relaxed volgen. De eerste halve marathon wordt afgejogd aan 14 km/h. Dat verdient zelfs een schouderklopje denkt ook Jonathan die me op dat moment voorbijraast aan de kop van de 11,5 km wedstrijd.

Kort na de helft begint er onrust te komen. Mijn quadriceps zijn serieus aan het klagen over al die meters bergop en bergaf en het geschuif en gestuntel in de gladde modder. Het vereist veel meer van de spieren dan bij het normale rechtdoor lopen wat ik gewoon ben. Bij kilometer 25 zijn mijn quads zo pijnlijk dat ik of moet stoppen of het tempo moet laten zakken om op de been te blijven. Opgeven staat niet in het woordenboek dus trager dan maar. Podiumplaats nummer één verdwijnt aan de horizon. Nadat een tweede kranige ouderling me voorbijgaat kan ik ook het zilver vergeten.
Ik verval in vele kilometers van traag en ongeconcentreerd gejog als er vanachter mijn rug een derde concurrent voorbij stoomt. Als ik die niet volg dan kan ik beter stoppen denk ik, en ik verbijt de pijn en sluit aan. Mijn haas loodst me tot kilometer 38, waar ik de moed hervat en een versnelling inzet. De haas heeft blijkbaar geen reserve cartouches over en ik dus duidelijk wel. De quads mogen er nu volledig aan, die heb ik na de finish niet meer nodig. 3u 10, derde plaats in een bosmarathon met zwaar profiel en parcours, ik ben er tevreden mee.
Voor wie een winterse daguitstap zoekt is het een aanrader, die LPM.(met dank aan schrijver/loper Piet Y)